Terezin Tour Including Admission Ticket and Minibus Transfer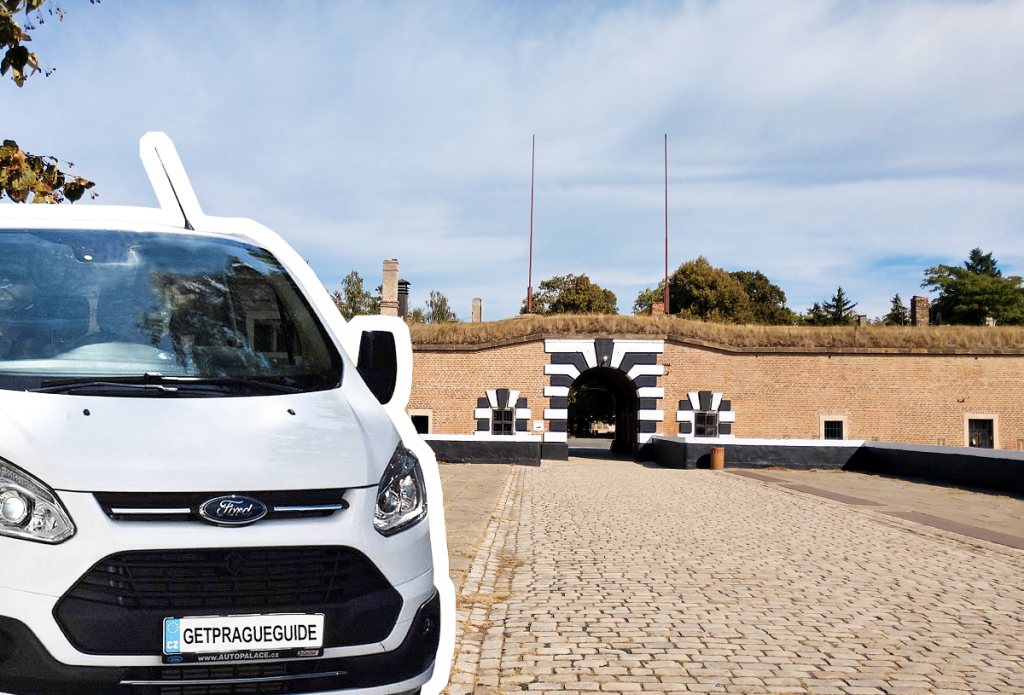 Overview
Our tour which is including an Admission ticket to Terezin Small fortress will open for you a window into not far past where justice love and humanity were not in place.
What to Expect
Product Experience
Minibus transfer from Prague to Terezin and back
Visit the Concentration Camp and places that are connected with the Second World War
Enjoy a guided walking tour of the Terezin
Hear the stories connected with Terezin
Experience in detail
Terezin is located approximately ninety miles north of Prague and just south of Litomerice. The town was originally built in 1780 by Emperor Joseph II of Austria and named after his mother, Empress Maria Theresa. Terezin consisted of the Big Fortress and the Small Fortress. The Big Fortress was surrounded by ramparts and contained barracks. However, Terezin had not been used as a fortress since 1888; Terezin had become a garrison town that remained virtually the same, almost entirely separated from the rest of the countryside. The Small Fortress was used as a prison for dangerous criminals.
Terezin changed dramatically when the Nazis renamed it Theresienstadt and sent the first Jewish transports there in November 1941.
The Nazis sent approximately 1300 Jewish men on two transports to Theresienstadt on November 24 and December 4, 1941. These workers made up the Aufbaukommando (construction detail), later known in the camp as AK1 and AK2. These men were sent to transform the garrison town into a camp for Jews. The largest and most serious problem these workgroups faced was metamorphosing a town that in 1940 held approximately 7,000 residents into a concentration camp that needed to hold about 35,000 to 60,000 people. Besides the lack of housing, bathrooms were scarce, water was severely limited and contaminated, and the town lacked sufficient electricity.
Our tour takes you to the most significant places. With a certified guide, you will be guided through the Terezin concentration camp.
During the winter season (1.10.-30.4.) this tour runs only on Tuesday, Thursday, and Saturday. From 1.5. to 30.9. the tour runs every day except Wednesday. 
This tour does not run on 24.12.,25.12.,26.12. and 1.1.
What's Included
Tour guide
Bus transfer from Prague Rudolfinum to Terezin and back
Admission ticket to Terezin Small Fortress
What's Not Included
Feedbacks
Jake Rosenberg
, 29 August 2022, 14:16
Anonymous
, 15 August 2022, 09:11
Anonymous
, 31 July 2022, 11:07
Laurisa Rogers
, 26 July 2022, 09:54
This was a somber, yet informative and important tour for me and the guide, Martin (sorry for any misspelling) was amazing. As a Jewish person, this tour was especially emotional for me and Martin was exceedingly compassionate and sensitive to how the information may be impacting me. He made a special point to check on my well-being several times throughout the tours. I really appreciated that he gave the whole experience the gravity it deserves. He was also incredibly informative/informed and personable. I would highly recommend!
Anonymous
, 26 June 2022, 08:54
Anonymous
, 24 June 2022, 14:09
GRAZIE per un'esperienza straordinaria
Andrea Monico
, 23 June 2022, 17:57
Anonymous
, 23 June 2022, 17:51
Super organisiert, sehr nette und kompetente Guides, sehr interessante Geschichte und Hintergründe.
Felix Haan
, 23 June 2022, 17:50
Louise Horne
, 18 June 2022, 08:45
Carolina Smith
, 18 June 2022, 08:42
ELCIO FREIRE MOTA
, 28 May 2022, 20:27
Dianne Berning
, 05 May 2022, 22:54
Anonymous
, 05 May 2022, 22:48
Ligia del Carmen Cansino Goñi
, 30 April 2022, 15:48
Alessandro Pio Adimari
, 12 April 2022, 20:57
Michtom tom
, 05 April 2022, 10:39
Costa war ein super sympathischer Mensch und ein ausgezeichneter Reiseführer. Auch die deutsche Führung vor Ort ist sehr empfehlenswert! Ein wichtiger Teil der Geschichte, der nicht in Vergessenheit geraten darf
Sarah Evans
, 02 April 2022, 08:59
A very interesting day and very knowledgeable guides. Only wish we had more time as it felt quite rushed
Michtom tom
, 30 March 2022, 09:07
Our guide was so knowledgeable it was incredible.
Aitor Villanova Balaguer
, 09 March 2022, 21:11
SALESSE
, 19 February 2022, 21:25
Anonymous
, 19 February 2022, 21:23
Great! Amazing tour! Thank you for taking us to Terezin
Anonymous
, 13 February 2022, 21:58
Anonymous
, 05 February 2022, 14:33
Raynaud Morgane
, 16 January 2022, 11:41
Anonymous
, 16 January 2022, 11:39
Anonymous
, 06 January 2022, 09:38
Magnifique merci. Le guide avait un français parfait et des connaissances!
Paula
, 27 October 2021, 19:57
Paula
, 18 October 2021, 12:05
Anonymous
, 22 September 2021, 10:11
Bernhard Gyes
, 15 September 2021, 17:53
Markus Romstorfer
, 10 August 2021, 08:52
Nicole Kühn
, 09 August 2021, 21:42
Andrea Štěpánová
, 01 August 2021, 18:01
Na tento výlet jsme vycestovaly osobním autem celkově pouze v počtu 2 osob se řidičem a průvodkyní. Řidič včetně paní průvodkyně byli neskutečně ochotní, co se týče historie, tak jsme dostaly ucelený plnohodnotný výklad a na každou otázku podrobnou odpověď. Cítily jsme se opravdu velmi dobře, ukázali nám nad rámec zájezdu i Litoměřice, dostali jsme v tom horku i pitný režim a na zpáteční cestě se nám snažili vyjit vstříc s místem ukončení výletu tak, aby nám navazovala další akce. Vše jsme stihli, výlet stál určitě za to. Pan řidič má neskutečný přehled o všem, kde se co v Praze nachází, od kdy do kdy je kde otevřeno, kde se jaká památka či budova po celé cestě nachází a jel velmi svižně a bezpečně. Paní průvodkyně se nám po celou dobu plně věnovala a oba se snažili, aby vše bylo na 100 %. Bodudík, to se nestalo a zájezd pokud můžu hodnotím 150 procenty. Až budeme příště v Praze, rády využijeme nějaký další výlet, bohužel mimo Prahu je Terezín jediný, tak snad něco i přibude. Děkujeme
Miriam Schwind
, 23 July 2021, 07:53
Very happy with this trip. My guide Konstantinos and Blanka were very nice and answering questions regarding town of Terezin and surrounding cities/ villages.
Romain Ahmed Messaoud
, 31 July 2020, 17:03
Anonymous
, 25 July 2020, 11:44
Nattascia Passeri
, 28 February 2020, 10:06
Mathurin Derel
, 18 February 2020, 22:19
Anonymous
, 14 February 2020, 19:41
Camila Auza
, 12 February 2020, 10:49
Camila Auza
, 06 February 2020, 18:45
Anonymous
, 31 January 2020, 12:27
perfect welcome. staff who wanted to find a solution so that our visit goes as smoothly as possible and on the desired day.
Anonymous
, 29 January 2020, 07:32
Bilger Michael
, 20 January 2020, 20:37
Samantha Offord
, 20 January 2020, 20:36
Anonymous
, 10 January 2020, 17:13
Anonymous
, 28 December 2019, 20:49
service et guide parfaits
John Marshall
, 19 December 2019, 15:09
Tour was very interesting and informative. Best aspect of the tour was the drive to and from the camp, driver was excellent to say the least, very friendly and provided general history of Prague and pointed out different buildings and restaurants he'd recommend.
Alessandro Badalassi
, 17 December 2019, 17:17
Edith Theis-Nielsen
, 12 December 2019, 17:35
Absolutely perfect - I was the only one on the tour so it could be done efficiently and see the sights at my own pace - as indicated in the preview material. Both my driver and the tour guide at Terezin were perfect and very service minded. I even got to see the tunnels in Terezin - not sure that could be done with a group. I would warmly recommend this tour provider, because the tour excl museums is 4-5 hrs. (much shorter with just one person on the tour), where other tour providers have the tour in 6 hours, which is a lot if you don't have energy for hours of sightseeing and have read up on the facts before and after the tour!
It Duo
, 25 November 2019, 08:35
Anonymous
, 16 November 2019, 18:33
Anonymous
, 08 November 2019, 14:24
Clarisse Claud
, 01 November 2019, 11:51
Thank to our driver/guide who learn to us many things on Prague and Terezin. However, we noticed that if we do not talk english, this part would be able more difficult. Our driver/guide drive us to the small fortress of Terezin where an other guide explain us in our langage the history of Terezin.
Anonymous
, 18 October 2019, 20:42
Anonymous
, 14 September 2019, 09:13
Anonymous
, 20 July 2019, 09:12
The french guide was totally dedicated and explained a lot about Republik tcheck during the bus transfer. She translates for us what the guide in Terezin explains. She was very nice et very attentioned. The bus driver was very nice and drives very well. We were totally satisfied by this tour.
Anonymous
, 09 July 2019, 07:30
Anonymous
, 01 June 2019, 11:12
Anonymous
, 27 May 2019, 10:15
Anonymous
, 22 April 2019, 19:00
Emmanuel Kofi Ametepe Armah
, 08 April 2019, 09:14
Alina Gwerder
, 08 April 2019, 09:13
Samuel Renggli
, 29 March 2019, 19:48
Henry pons
, 26 March 2019, 11:46
We met with our driver on time. He was very kind and provided us with many information's about Terezin. Terezin itself is very sad place. Thank you driver ( unfortunately don´t remember name)
Vincent Dagenais
, 24 March 2019, 10:14
Sharon Mooney
, 23 March 2019, 18:13
Emily Sands
, 21 March 2019, 13:31
Birgitte Wendelboe
, 21 March 2019, 13:31
Belinda Walsh
, 17 March 2019, 15:08
You must see a very powerful experience. Perfect service.
Anonymous
, 17 March 2019, 15:03
Sylvain Rameau
, 03 March 2019, 19:19
Riccardo Borragine
, 03 March 2019, 19:18
Sandra Alberge
, 14 February 2019, 20:13