Prague Venice Sightseeing Cruise Including Entrance to Charles Bridge Museum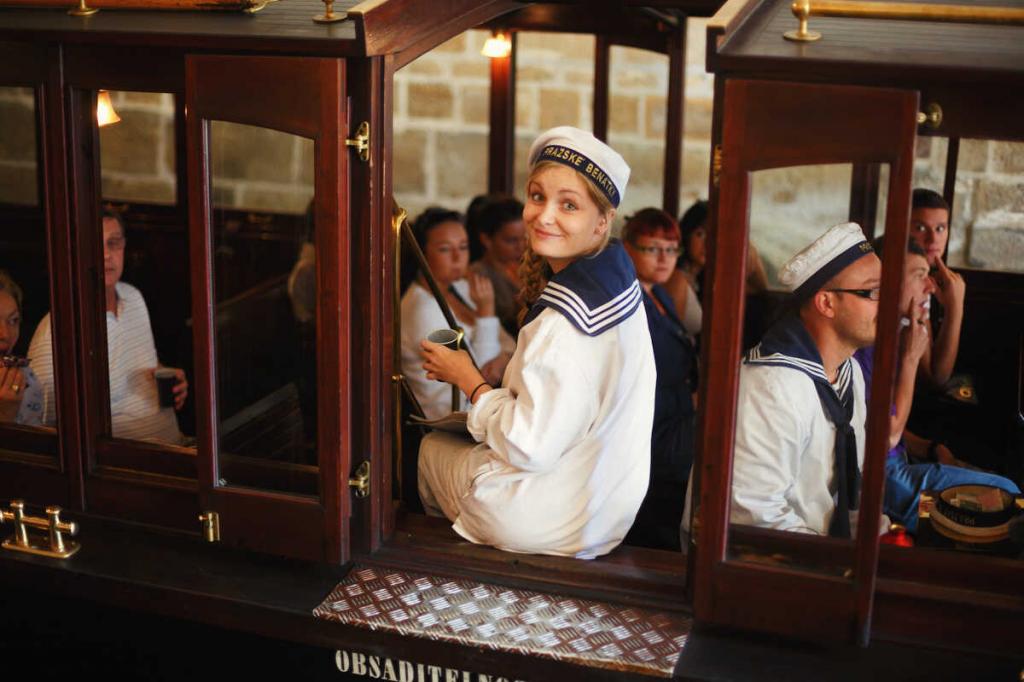 Overview
The unique panorama of Prague is best enjoyed from the Vltava River. Prague Venice will give you a different perspective of our capital city. The natural spectacle of Petrin Hill, bursting with color, will immediately captivate you, as will the view of Prague Castle and Hradcany. Just head to Křížovnické náměstí and descend to the Judita dock. From the wharf, hidden in the unique water underground of the Old Town, you will set sail for unforgettable views and uncharted and mysterious canals outside the main navigation corridors. After the cruise, you can visit the Museum of Charles Bridge where you will find out about the history of this spectacular monument which has been here since the 14th century.
What to Expect
Product Experience
Have an extraordinary experience and sail on the Vltava River
Enjoy the view of the most beautiful historical treasures
Take a break from the hustle and bustle of the city with the sound of the Vltava River
Explore the Museum of Charles Bridge
Experience in detail
Present your voucher at the Charles Bridge Museum ticket office. You will then descend to the dock, which is located under the last surviving arch of the Judith Bridge. Believe me, right off the bat, it's a fascinating experience to be under the Charles Bridge, plus you'll be part of the Old Town's watery underground for a while.
During the cruise, you will enjoy the view of Charles Bridge, and the panorama of Prague Castle. The boat will take you around the Mánes Bridge and you will enjoy a tour of Čertovka up to Velkopřerovský Mill. During the cruise, you will get a small refreshment and you will learn some information about the places you will see.
After the cruise, you can go to the Charles Bridge Museum, where you will learn about the history of one of the oldest stone bridges in Europe, see unique documentation from the construction, and also get to know Judith's Bridge, which originally stood on the site of today's bridge. In several halls of the original Crusader Hospital and the Church of the Holy Spirit (St. Francis), you will encounter the history of a unique place and a unique building. Get to know the life of the bridge and the people around it! The museum introduces visitors on many levels to bridge construction and everything related to it. With a clear emphasis on Charles Bridge, it charts the history of the connection between the two Prague banks.
It is up to you whether you start with a tour of the Museum and then go on a cruise, or whether you first enjoy the views of beautiful Prague and then learn about the history.
Cruises on the Vltava run all year round, during the summer the windows are open on the boats, while in winter the boats are closed and heated.
NOTIFICATION
31.11.2023 - Charles Bridge Museum is closed all day
3.12.2023 - Charles Bridge Museum is closed from 1:00 p.m.
22.12.2023 - Charles Bridge Museum is closed from 1:00 p.m.
What's Included
Admission ticket for the cruise 
Admission ticket to the Charles Bridge Museum
Refreshment on the boat - traditional ZON lemonade or beer, tea or coffee, in winter also mulled wine, and gingerbread or ice cream.
Professional commentary
What's Not Included
Feedbacks
Martina Aquino
, 12 November 2023, 20:38
Zdenek Sojka
, 15 August 2023, 19:14
Alex Gray
, 15 August 2023, 19:13
Milan
, 13 July 2023, 17:23
Linda Bláhová
, 13 July 2023, 17:16
Vít Kutálek
, 13 July 2023, 17:12
Hadi rizk
, 01 July 2023, 17:55
David Fritsch
, 23 November 2022, 10:30
Anna Zelenková
, 06 October 2022, 10:12
Jana Fűrstová
, 23 September 2022, 09:50
Anonymous
, 11 September 2022, 09:41
Paní průvodkyně v Muzeu Karlova mostu byla naprosto skvělá! Moc děkujeme. Méně spokojeni jsme byli s "námořníkem". Žáci opravdu nezlobili, nevyrušovali (bývá v hodinách rušno), arogantní chování. Nedá se srovnat s milou slečnou, kterou jsem zažila o prázdninách... Ale i tak se plavba žákům líbila, byli jsme spokojeni. Děkujeme.
Anonymous
, 29 August 2022, 17:39
Jindřich Janiga
, 07 August 2022, 09:13
Anonymous
, 31 July 2022, 16:55
Petra Duszková
, 31 July 2022, 11:07
Dostálová Ivona
, 08 July 2022, 11:00
Jana Minichová
, 24 June 2022, 14:11
Martina Weissová
, 18 June 2022, 08:48
Jana Motyčková
, 18 June 2022, 08:44
Stefan Stanev
, 16 June 2022, 09:36
Jsme velmi spokojený a líbila se nám plavba s lodí Pražských Benátek a hlavně doprovod kapitána, který byl velmi příjemný.
Jana Minichová
, 28 May 2022, 20:25
Petra Duszková
, 05 May 2022, 22:52
Ondřej Kulhavý
, 12 April 2022, 20:57
Eskin Baby Joseph
, 15 February 2022, 19:02
Leona Molinková
, 13 February 2022, 21:53
Cesta byla báječná, velmi jsme se bavili, jen muzeum se nám zdálo málo informované, ale i tak nádhera!
Renata Pavličíková
, 02 January 2022, 10:20
Weronika Proch
, 27 October 2021, 19:51
Michal Bican
, 14 October 2021, 16:04
Marie Lehká
, 14 October 2021, 16:01
Andrea Bubelínyová
, 26 September 2021, 18:13
Markéta Soukupová
, 20 September 2021, 13:21
Tomas Kalousek
, 20 September 2021, 13:21
Markéta Valdmanová
, 06 September 2021, 13:02
Hana Sinisi
, 30 August 2021, 15:53
Andrea Nová
, 24 August 2021, 18:33
Jana Tothová
, 19 August 2021, 17:53
Zadny problem, spokojenost.
Peter Halasz
, 12 August 2021, 08:03
Eva Gazdíková
, 09 August 2021, 21:43
Barbora Feníková
, 09 August 2021, 21:43
Romana Kauer
, 09 August 2021, 21:42
Vlasta Šmelhausová
, 09 August 2021, 21:36
Tomáš Hašek
, 20 July 2021, 14:04
Michaela Hashemi
, 04 July 2021, 12:38
Anonymous
, 25 July 2020, 11:46
Robert Ovčačík
, 07 June 2020, 13:43